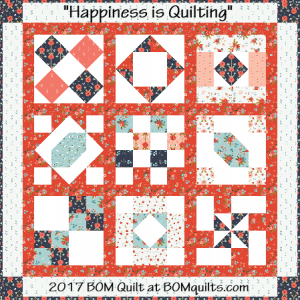 "Happiness is Quilting" 2017 Block of the Month Quilt.  An original quilt designed by TK Harrison from BOMquilts.com
Sponsored By:


 "Happiness is Quilting" features a color palate ranging from very light to very dark – all extremely pleasing to the eye!
This 12 month original quilt pattern was designed for 2017 from BOMquilts.com by TK Harrison and is sponsored by AbbiMays.com, and Aurifil Thread!
12 1/2″ finished blocks
12″ unfinished blocks
52″ square finished quilt
All instructions provided as a PDF document.
This is a 12-part block of the month quilt with one block pattern or instructions revealed on the 20th of each month.
Instructions:
Border #2 & Finishing Instructions – December 20, 2017