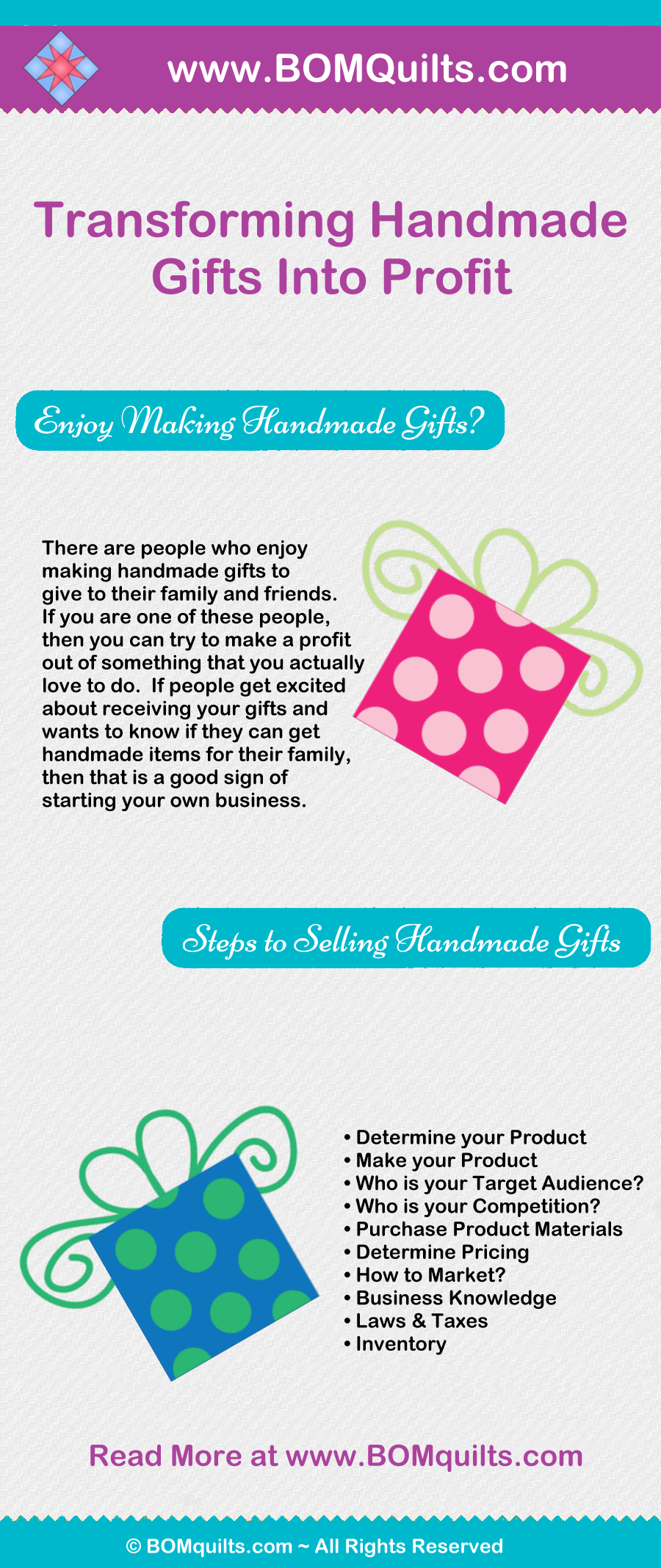 There are people who enjoy making handmade gifts to give to their family and friends.  If you are one of these people, then you can try to make a profit out of something that you actually love to do.  If people get excited about receiving your gifts and wants to know if they can get handmade items for their family, then that is a good sign of starting your own business.
Turning Your Passion Into Profit – Selling Your Sewing and Crafts
When starting a business with handmade items and crafts, listen to your friends and relatives.  They can offer the best and honest critique on how to improve your crafts.  This would give you a chance to improve and make your items marketable.
Aside from identifying the best qualities of your products, you also need to consider the target audience or the target consumers.  This would define what kind of products you would make.  It is difficult to be a jack-of-all- trades when you are just starting.  You need to focus on what you can specialize on.
Identifying your target market, the next step would be identifying your competition.  You need to know what level of skills and expertise you are up against with.  If you doing online marketing and sales, then try visiting craft-making websites and  also check local stores.  Seeing your competition would surely improve your skill and how you design your handmade items.
Once you have decided to create items with your skill and sell them, then you need to identify where you can get materials in low prices without sacrificing the quality.  This would make your profit more.  You can check websites for lower prices.  Take note how much the materials cost, this would help you determine how much it cost you to make your handcraft and how much you would sell it for.
Marketing is important to keep orders coming in.  You can sell your items over the internet by creating a website dedicated to your crafts.  Aside from that, you can have your friends start the word about your product.  Sometimes, the best and most reliable advertisement is when somebody testifies how good the products actually are.
Aside from learning how to improve your handicrafts, you also need to know something about the business. Working at home does not mean that there would be less work.  You would have to know about the state laws and even city laws.  This would have an impact on the tax that would be collected, which is why you would have to make sure that your records are well documented.
And what about taxes? You should also be able to take care of inventory, order sheets and other documents. You would also have to be familiar on how to market your craft business and how to look for customers that would eventually be your patrons in the business.
Since you would also be working at home, you would have to have space in your home for business.  You should also consider the impact of having the business at home and its effects on your family.  Make sure that they  understand that even if you are at home, your time could be allotted for work.  Long hours would depend on the orders that would come in to you craft business.
Getting money out of something that you actually enjoy doing like craft making is a very rewarding experience.  But it is not something that can easily be done and accomplished easily, there would be moments when you would undergo difficult times.
But the best thing is that you skill and your handmade gifts can actually be turned into bucks.