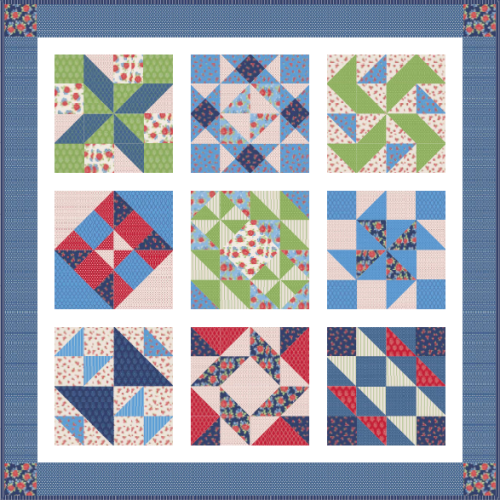 "Harry Loves Alice" 2019 Block of the Month Quilt. An Original Design by
TK Harrison, Owner of BOMquilts.com
Sponsored by:
"Harry Loves Alice" is a block of the month quilt
featuring the Amanda Herring for Penny Rose
Fabrics / Riley Blake
Block Size = 14″ Finished
14 1/2″ Unfinished
Finished Quilt Size = 59″ square
All instructions provided in PDF.
This is an 11-part block of the month quilt with one block pattern instructions revealed on the 20th of each month.
Finishing Instructions – November 20, 2019
The following "Harry Loves Alice" quilt blocks were made by Meloney F. who tested my pattern for me. This is a crucial step in order to give you a pattern that is free from errors. She used her own fabrics which is why her quilt blocks don't look the same as mine do above.